Theme zoom 
7 days: Dec 11th to Dec 17th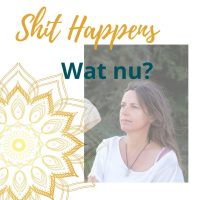 Shit Happens!
Wat nu?
In deze 7-daagse themaweek ervaar je tools die je ondersteunen bij het omgaan van "shit" dingen in je leven. Ontdek hoe je je innerlijke wijsheid en kracht kunt inzetten samen met een aantal handige tools.
Nu voor de actieprijs van

55€
How to Deal with Sh*t that Happens?
There are moments when you sense that things are off-kilter. You're not feeling quite like yourself, your body is calling for attention, you notice some aches and discomforts. Even your energy level doesn't seem to be at its best. If you recognize this, chances are you're suppressing something, something you currently have no desire to deal with or are trying to appear strong for others. Emotions might be at play, akin to a ball being held underwater that can resurface when you're not paying attention.
So, what can you do?
In the upcoming thematic series, we take 7 days to explore what you can do and avoid to feel better in your own skin again. Each day, I'll take 30 minutes to shed light on this theme from different perspectives. There will also be room for questions.
Discover what is currently draining your energy. Explore your inner wisdom and the power hidden within, so you can better navigate challenging situations. Learn how to employ new tools at any moment of the day, allowing you to move through life with greater ease.
Practical details:
Date: Monday, December 11th, to Sunday, December 17th, 2023
Time: 8:30-9:00 am
Zoom (audio recordings will be made available)
The value of these sessions is €77
Your price now is €55